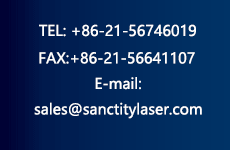 Applications

UV Curing

DNA Sequencing

CD Carving

Micro-electronics
Medical Science

Flurescence

Biomedical Instrument
Scientific Research

Semiconductor Processing

Non-Contact Inspection

A 266nm Laser Beam
Ultraviolet ( UV ) light is electromagnetic radiation with a wavelength shorter than that of visible light, but longer than X-rays, that is, in the range between 100nm to 400nm. It is so-named because the spectrum consists of electromagnetic waves with frequencies higher than those that humans identify as the color violet. These frequencies are invisible to humans, but near UV is visible to a number of insects and birds.
SANCTITY LASER
provider various air cooled Ultraviolet Lasers, wavelength range including Pulse output 266nm, 355nm lasers and Continuous Wave output 355nm 375nm.
It features a rugged and efficient passive mode-locking system based on a saturable Bragg reflector. Available for a range of laboratory and industrial applications, etc. Power output ranges from 1mW to 1000mW. Features is Long lifetime, compactness size, high stability, high power, excellent laser beam quality, ruggedness and low total cost of ownership.
A Ultraviolet laser system, Beamsplitter Prism inside laser head, only Ultraviolet light output.
A Ultraviolet laser system, Beamsplitter Prism outside laser head, one Ultraviolet light and one Green light output.
We provide

Power Stability Test Report

for every laser, the

Laser Beam Profile Test Report

for gaussian beam lasers.
The

Power and Curve Graph

for Power Adjustable lasers, and if you need we also can provide

Wavelength Test Report

.
PRODUCTS CODE EXPLAIN

MODEL :

SSL - 375 - 0001 - XXM - D

SSL :

Shanghai Sanctity Laser

375 :

375nm Wavelength of laser

0001 :

Laser output power of "milli watt"

TM :

TM of TTL Modulation & AM of Analog Modulation 10TM = 10KHz TM

D :

D : Dot Output

L :

Line Output
F : Fiber Output
LN : Low Noise
S : Single Frequency
Q : Q-Switched Pulsed

NUMBER :

Every laser products have a exclusive 8 number
Ultraviolet Laser List

Wavelength
Output Power (mW)
Laser Type
Stability

| | | |
| --- | --- | --- |
| 266nm | | |

1 - 250
DPSS ( Q-Switch Pulsed ) Laser
5%, 3%, 1%

| | | |
| --- | --- | --- |
| 355nm | | |

1 - 10
DPSS ( CW ) Laser
5%, 3%, 1%

| | | |
| --- | --- | --- |
| 355nm | | |

1 - 1000
DPSS ( Q-Switch Pulsed ) Laser
5%, 3%, 1%

| | | |
| --- | --- | --- |
| 360nm | | |

1 - 100
DPSS ( CW ) Laser
5%, 3%, 1%

| | | |
| --- | --- | --- |
| 375nm | | |

1 - 100
Diode ( CW ) Laser
5%, 3%, 1%