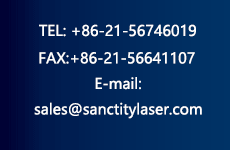 1550nm INFRARED DIODE LASERS
Applications

LIDAR

MALDI-TOF

Medical Science
Medical Equipment
Laser Printing
Laser Marker System
Optical Communication
Scientific Research
Physics Experiments
Non-Contact Inspection

A Infrared TE Mode Laser Beam
This is air cooled Diode laser with CW output at 1550nm, available for a range of light show, laboratory and industrial applications. Power output ranges from 1mW to 3000mW. Features is Long lifetime, compactness size, high stability, high power, excellent laser beam quality, ruggedness and low total cost of ownership.


Cylindrical transverse mode patterns


Rectangular transverse mode patterns
We provide

Power Stability Test Report

for every laser, the

Laser Beam Profile Test Report

for gaussian beam lasers.
The

Power and Curve Graph

for Power Adjustable lasers, and if you need we also can provide

Wavelength Test Report

.
PRODUCTS CODE EXPLAIN

MODEL :

SSL - 1550 - 0001 - XXM - D

SSL :

Shanghai Sanctity Laser

1550 :

Laser wavelength of 1550nm

0001 :

Laser output power of "milli watt" 0001 = 1mW 1000 = 1Watt

XXM :

10TM of 10KHz TTL Modulation & 10AM of 10KHz Analog Modulation

D :

D :

Dot Output

L :

Line Output

F :

Fiber Output

LN :

Low Noise

S :

Single Frequency

Q :

Q-Switched Pulsed

P/N :

Every laser products have a exclusive 8bit numbers
1550nm Diode Laser Type List

Wavelength
Output Power (mW)
Laser Type
Stability

| | | |
| --- | --- | --- |
| 1550nm | | |

CW Output Lasers
5%, 3%, 1%

| | | |
| --- | --- | --- |
| 1550nm | | |

Low Noise Lasers
5%, 3%, 1%

| | | |
| --- | --- | --- |
| 1550nm | | |

Fiber Output Lasers
5%, 3%, 1%

| | | |
| --- | --- | --- |
| 1550nm | | |

Line Output Lasers
5%, 3%, 1%